September, 10 2021 | 5 min read
By Kara Janssen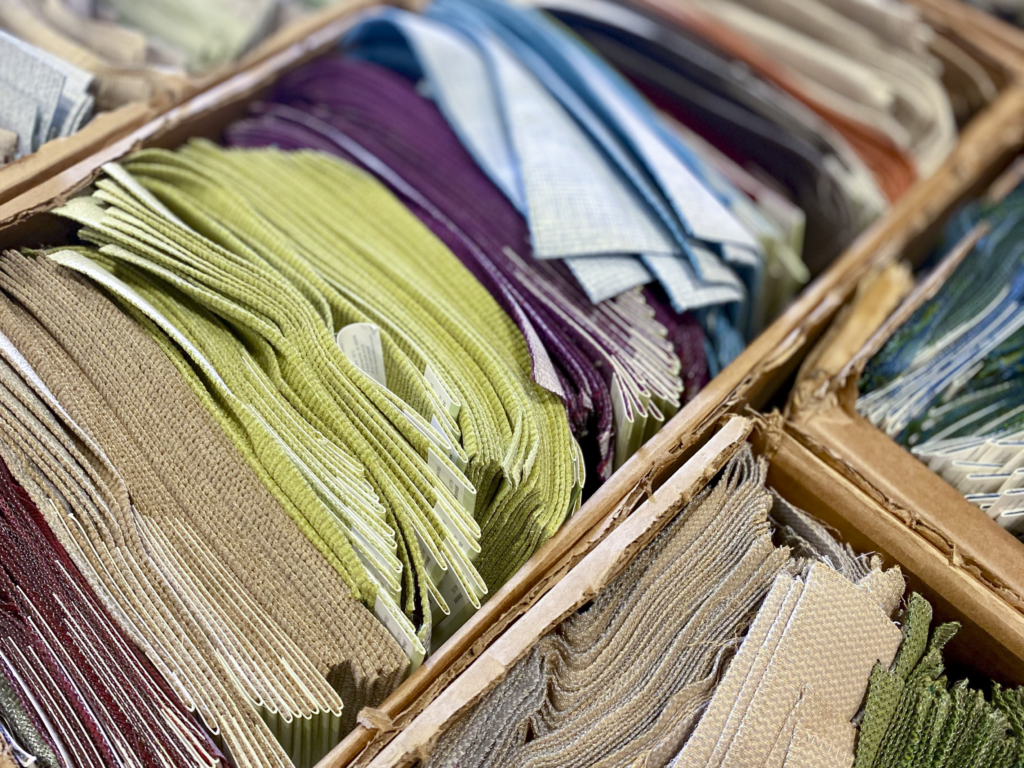 For more than a decade and a half, ZeroLandfill has been diverting discontinued samples from architects and designers from the waste stream, supplying local artists and educators with over 1,000,000 lbs. of fabrics, carpet, glass, paint swatches that can be upcycled into works of art.
Upcycling refers to the practice of transforming unwanted, old, or otherwise useless materials and repurposing them into a beautiful item that has value. Commonly referred to as creative reuse, upcycling looks at waste through the lens of visionary resourcefulness by limiting the amount of trash that is sent to landfills.
Upcycling is not the same as recycling, explains Upcyclethat.com. "Recycling and Upcycling have different processes. In the recycling process, items are broken down to be reused. Paper is shredded and turned into pulp, plastic is shredded and melted into pellets, glass is smashed and melted to be recast. This downcycling is an essential step in the recycling process, but it does degrade the value of the materials," the website says. "Both recycling and upcycling are important as they reuse materials instead of throwing them away. Less landfill waste has a positive impact on the environment."
Interior designers and architects recognize the importance of upcycling and recycling in their field, noting that while the flooring, fabric and tile samples they select transform spaces, the materials themselves need to be transformed at end of use. Cue the Indianapolis chapter of ZeroLandfill—an organization that works on closing the gap in the material resource loop and forwards the green initiatives in the interior design industry.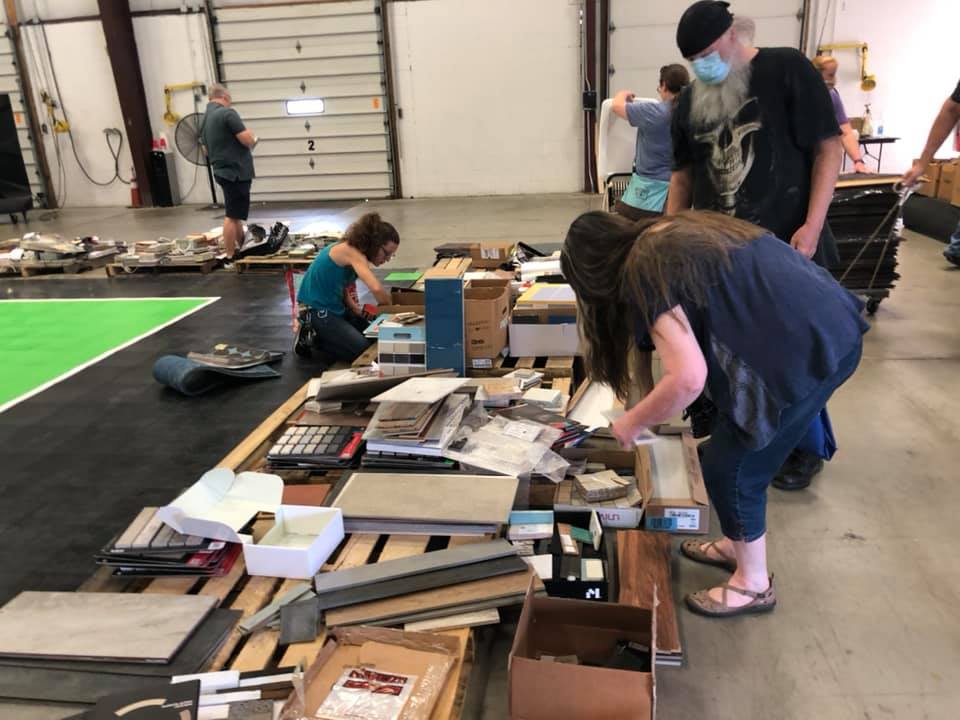 How the ZeroLandfill Program Works
Founded by an Interface Account Executive, ZeroLandfill began in 2003 as an Ohio-based program that has now expanded to over 30 cities in around a decade and a half. The Indianapolis chapter of ZeroLandfill was kickstarted in November 2014 by Sarah Savage, local Interior Designer and sustainability advocate. After an orientation from one of the founders of the program and funding from Wilsonart and Lumberman's, ZeroLandfill Indy had their first official event at the Harrison Art Center and has since hosted many more at Mayer Fabrics warehouses.
The donation and "shopping" processes are broken down quite simply. "We have an easy three-step system," described Savage. "On our 'drop-off days', my volunteers and I wait for firms and reps to drop off their materials. When they do, we unload the materials, separate them into designated areas and begin sorting by color, size or type."
The most common categories are fabric, resilient flooring, carpet, resin materials, laminate, plastic, tile, stone, glass, metal, wood, paint, wallcovering, architectural, office supplies, and random.
"The 'random' and 'architectural' categories seem to be the most popular," mentioned Savage. "This year we had a box with 30 samples of different colored sand. The resin samples always go quickly. We've had large architectural samples of a window, or a screen and they just disappear!"
To round out the end of the event, customers "check-out" through the weighing station and head on their way, repurposing their treasures into works of art.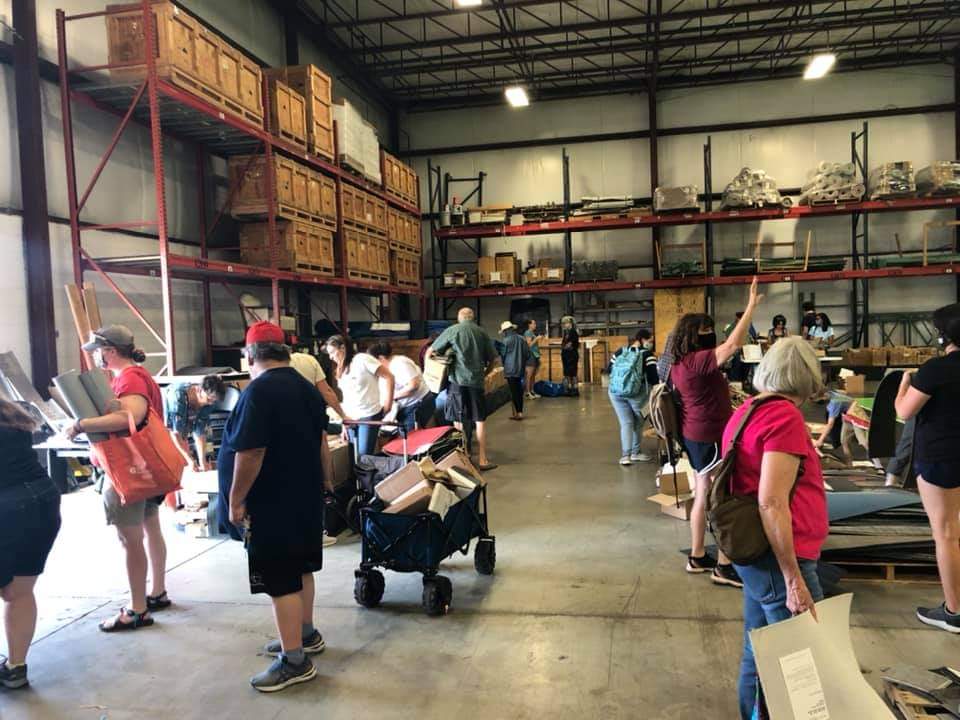 A Resource for Educators, Artists and Creatives
With over 2,000 likes on Facebook and a committed fan base that has experienced steady growth over the last few years, ZeroLandfill Indy has no shortage of shoppers. Event attendees usually consist of educators, artists and creatives looking for inspiration for classroom activities or material for their next artistic endeavor.
"We do advertise as being 'free art supplies'," said Savage. "We have committed fans that know the possibilities are endless."
It is not uncommon to find local organizations such as Teacher's Treasures, a volunteer-based group that collects and distributes school supplies for teachers and students in need, participating in the ZeroLandfill event in search of popular items like carpet squares.
"These materials are so valuable to public school teachers who have extremely limited budgets. For them, and for artists and crafters, they always show up with imagination and an open mind that helps them come up with a project out of the materials in front of them," Savage added.
ZeroLandfill attendees are never short on creativity. From model cars to stylish dog beds, shoppers have transformed trash into treasure with the materials donated to Savage and her team of volunteers.
"We've had people turn laminate chips into a seating chart for their wedding, plastic wall protection and faux leather fabrics taken to be used for model cars and upholstery repurposed into dog beds. Oh—and the Etsy shops! Our local sellers are frequenters of our events. So cool!" Savage noted.
Ideas like these and more creative suggestions are posted and shared on the official ZeroLandfill Indy Facebook page. Not only do volunteers support Savage through the collection, sorting and weighing process, they also are quick to share their ideas about what to do with a unique piece.
"Our event is only possible with our volunteer help," Savage emphasized. "Their enthusiasm helps visitors realize what could be created. One amazing part of the 'harvest' afternoon always involves volunteers rearranging things and even lifting an item to a 'harvester,' saying, 'you could make a really cool project with this'. They usually take them up on that suggestion. Hey, it's free!"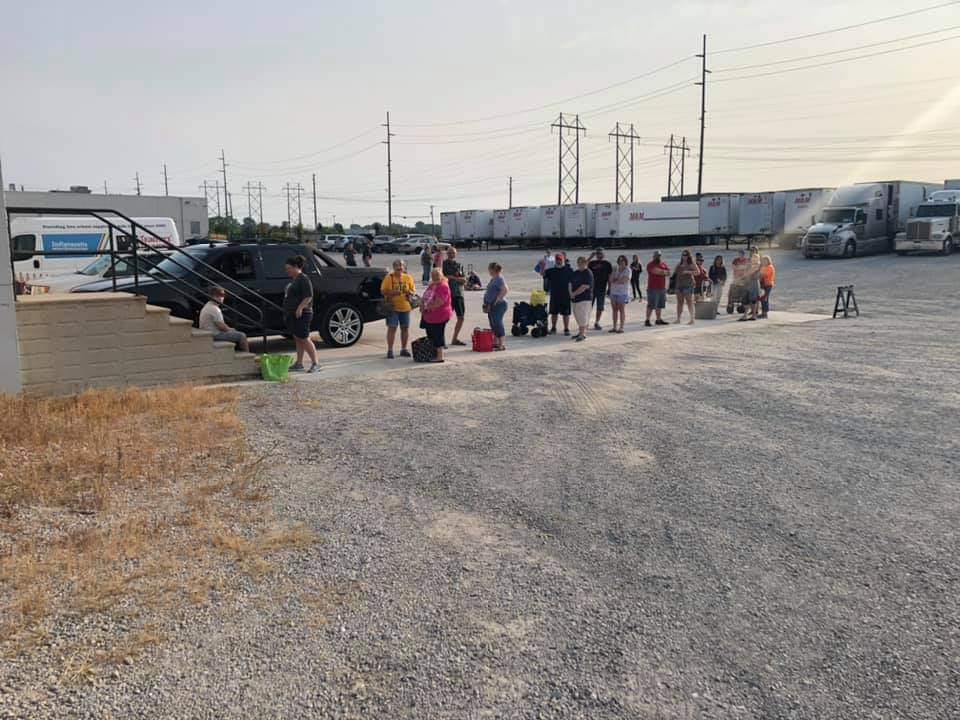 A Saturday of Success
On August 7th at Mayer Fabrics' headquarters on the east side of Indianapolis, ZeroLandfill Indy 2021 saw over 200 shoppers line up for a chance to sort through the palettes of samples the team had been collecting for over a year. The emergence of the new variant of the coronavirus made the event more difficult than usual, however, the ZeroLandfill Indy team was eager to make this year's harvest as safe and successful as possible. Masks and social distancing were recommended, and hand sanitizer was available for all attendees and volunteers.
Shoppers piled into the Mayer warehouse beginning at 9:00 AM. As fast as they were donated, the stacks of fabric, carpet, tile and other design materials began to disappear into reusable bags, boxes and the beds of trucks. The event neared its 3:00 PM deadline and both Savage and the volunteer staff were surprised to see just how many materials were harvested in such a short timeframe.
"On the Saturday event, we saved over 11,644 lbs from the landfill. There were still some things leftover, so much so that we hosted smaller events on the following Sunday and Wednesday," Savage said.
In total, ZeroLandfill Indy 2021 saved over 13,894 pounds from the landfill over the course of three days. To put that amount into perspective, 14,000 pounds is about 7 tons— the weight of a large elephant.
"Mayer Fabrics has been so supportive with all our events. The fact that they've hosted us SO many times is something that I cannot even begin to thank them for. They have come through for us when the outlook was bleak—and it's just wonderful," Savage added.
As for the next ZeroLandfill Indy event? Savage doesn't have anything concrete yet but stays hopeful for the future. She discussed her vision for the chapter, stating, "The dream would be to have a warehouse where the design industry could drop off unwanted and discontinued samples throughout the year. From there, we would open every six months for our main event."
For more information about ZeroLandfill Indy or questions about how to get involved with the next event, visit the ZeroLandfill Indy Facebook page or contact zerolandfillindy@gmail.com.