July, 26 2021 | 6 min read
By Kara Janssen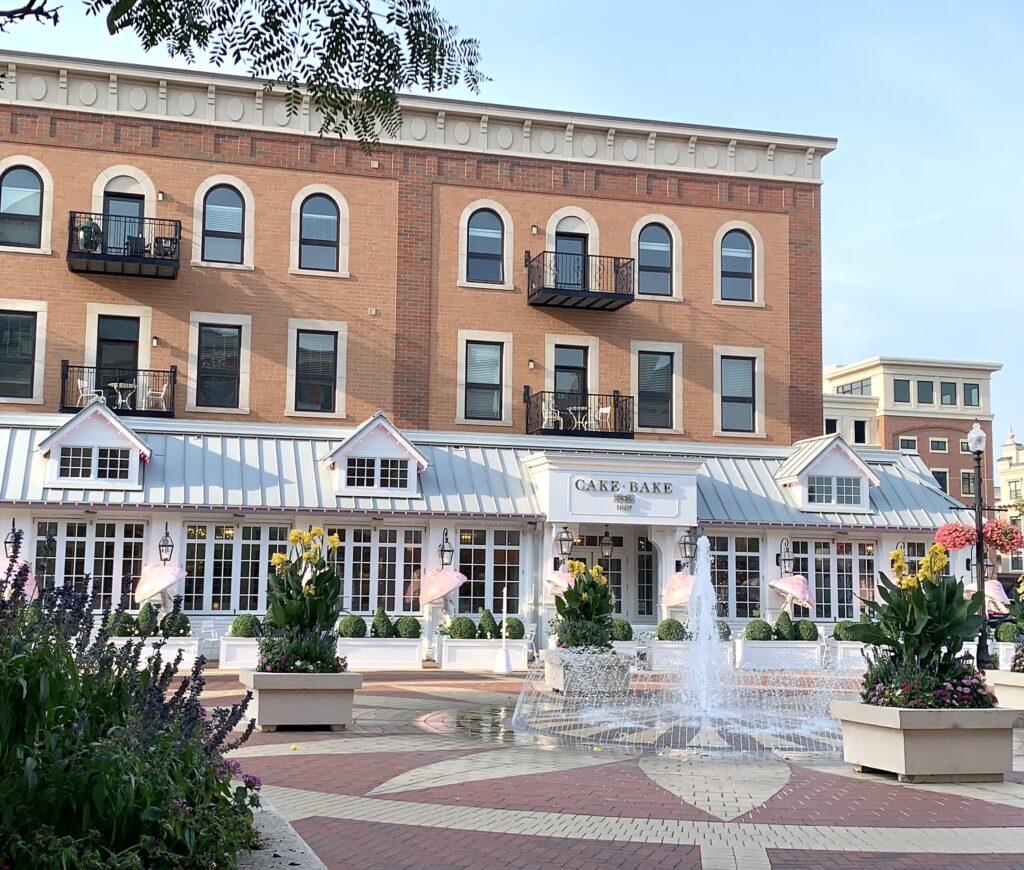 From windows adorned with magical forest flowers to indulgent three-layered cakes sprinkled with pixie glitter, the Cake Bake Shop by Gwendolyn Rogers oozes romantic charm at its chic space in the heart of Carmel City Center.
This Central Indiana staple began in 2014 as a quaint bakery and restaurant nestled in the Broad Ripple Village neighborhood just north of Indianapolis. Boosted by a cult social media following and award-winning cakes featured in O, The Oprah Magazine and William-Sonoma, The Cake Bake Shop quickly exploded into a fairytale phenomenon that draws sweet-tooth's from across the country.
After five successful years at the Broad Ripple location, owner Gwendolyn Rogers opted to open a second—and substantially larger—space in the upscale Carmel City Center. With the help of local luxury designer Julie Browning Bova, the pair transformed the 4,500 square foot building into the unique, French-inspired space customers know and love. Dazzling crystal chandeliers, whimsical forest-like décor and polished furniture line the lustrous interior created to cater to thousands of customers looking for a bite of edible royalty.
Mayer Fabrics caught up with Julie, the founder and CEO of Julie Bova Interior Design, on the second anniversary of the opening of the Carmel Cake Bake Shop to gain insight into what inspires her, discuss the design and fabric selection process and reminisce about one of her dreamiest commercial projects to date.
What drives your design decisions? What are some of your biggest inspirations?
I find inspiration in everything I do, especially being outdoors and traveling. When we couldn't travel, my inspiration shifted to the research of history and everything around me. I really do find inspiration in the people who engage our design services and all the different elements that play into a lifestyle, a space, a building or an environment that I am hired to create. We welcome each challenge as a new opportunity to create and tell a story. It's a wonderful profession! Helping people translate their vision and interpret their design dreams is great. More important than ever, designers are being asked to create beautiful spaces for individuals that allow them to work, create, educate and inspire their daily lives. Home that creates a sense of place, that is not only a calm sanctuary but energizes for work and multitasking.
How did you come to work with the Cake Bake Shop?
I have known Gwendolyn for many years, and we have a wonderful friendship. She first hired me to work with her on the original Cake Bake Shop at the Broad Ripple location and time has flown by…five years to the day the paint colors were due for the Carmel project. This month the Cake Bake Shop, Carmel location is celebrating the two-year anniversary. It's been exciting to assist Gwendolyn. She fearlessly creates her dream and shares her vision with so many! It's really an amazing journey and success story. She will continue to sprinkle her pixie dust and smiles!
Describe the design development phase. How did you select the materials and furnishings for such a creatively vibrant interior?
The design development phase begins the same for me with each and every project whether it is commercial or residential. It is very important that we really listen and gather lots of information from the client. It is the client's story and our job as the designer to interpret their visions and dream. I have one long standing commercial client that referred to me as their "CCO- the Chief Creative Officer" in a big meeting and I loved that! Design development requires patience, time and lots of listening to get it right. The opportunity to work on a project where the end goal is to make people smile and creatively create an experience for everyone to enjoy is pretty awesome. Adding confidence in the materials and textiles that we specify makes our job even better. Mayer Fabrics has been a great industry partner. I always have confidence in my luxurious selections, having never to settle for less, change based on the integrity and or the quality of the product. Textiles that are beautiful and functional are most important. Gwendolyn and I spent lots of time together, sharing and talking about her dreams, the wish list, goals and expectations, and most importantly the experience when someone walks into her world. The details of what they see, how they feel, the function and the flow. All of these factors were equally important and played a major part in the overall design concept, selection of the colors, textures and fixtures. All of the special ingredients and layers of details that went into both the Cake Bake Shop Broad Ripple and the Cake Bake Shop Carmel were carefully considered to bring a beautiful experience that everyone could enjoy.
Tell us about the fabric selection process for this project. Why Mayer?
Mayer Fabrics is one of our favorite go to for beautiful textiles with great style, performance and durability. I loved the combination of colors and textures selected from the very beginning of the design process and I felt confident that the selections were timeless, beautiful most importantly durable for the years to come.
What role did aesthetics and cleanability play in the design choices for the Cake Bake Shop?
My goals were to have the luxury upholstery vinyls and velvet styled textile upholstery for all of the tufted dining chairs, fronts of the dining chairs and seats and built-in benches. I wanted textiles that were strong, durable and suitable to take the wear and tear of the busy Cake Bake restaurant environment. Textiles that were low maintenance and the ability to support the many thousands of guests—anticipating a few spills, little guests and of course all of Gwendolyn's chocolate ganache, icing and delicious ingredients from the bakery.
What is your go-to slice of cake from the Cake Bake Shop?
Hmmm…Gwen's famous Earl's Court Chocolate Cake, Seasonal Caramel, Cookies & Cream, Carrot Cake, Gluten Free Cake! Ha! We love all flavors really. Also, I must mention the Club sandwich and Truffle Pommes Frites! Working just around the corner, we have had the awesome benefit of tasting a few cake flavors in the early stages! We are known to call over there for an impromptu carryout order for late lunch! Our location makes it relatively easy to get that afternoon sweet pick me up! It's no secret—we love Gwendolyn and her delicious Cake Bake cake!
Whether you're yearning for a slice of fluffy vanilla cake or a bite of silky broccoli quiche, the Cake Bake Shop is an Instagrammable brunch destination with an interior that is too sweet to miss. Designer Julie Browning Bova brought Gwendolyn Roger's extravagant vision to life with imaginative fabric, furniture and décor selections that live up to the decadent desserts that give the Cake Bake Shop its life.
---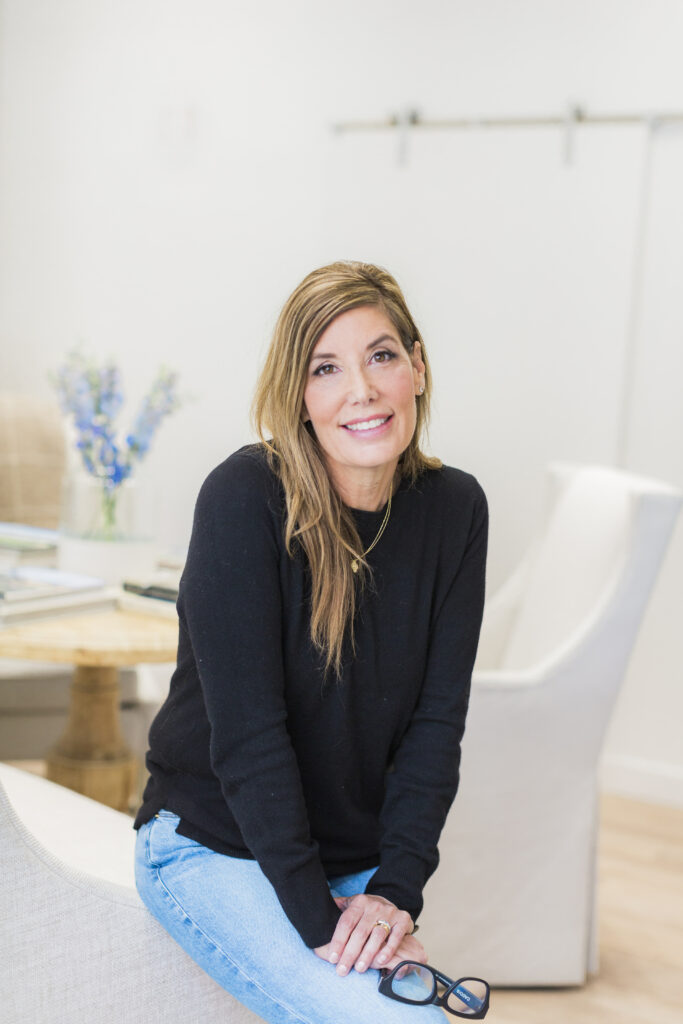 Julie Browning Bova, founder and CEO of Julie Browning Bova Design, has twenty-plus years as a respected interior design professional. Her early career experience, attained with her father's prestigious architectural firm Browning Day Mullins and Dierdorf, today benefits her commercial and residential clients from Michigan to Florida. With many exclusive and high-end vendor relationships, she and her team offer quality design expertise to a range of projects including luxury homes, apartment complexes, assisted living facilities, and metropolitan landmarks.
Headshot by GC Photography