October, 2 2023 | 2 min read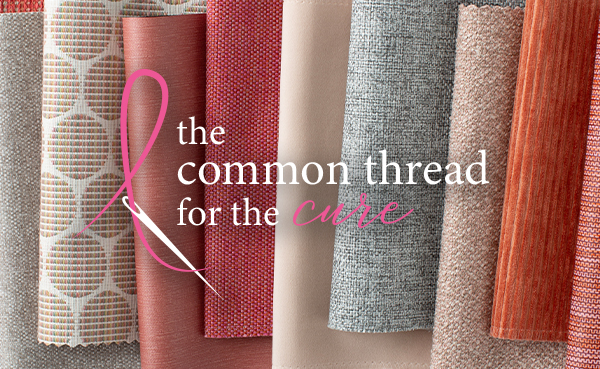 The Common Thread for the Cure foundation was established in 2000 to unite the contract furnishings industry in the battle against breast cancer. It is their belief that by working together, we can enhance the quality of life for individuals and their families in our industry who have breast cancer. As well as, enabling them to maintain as normal of a lifestyle as possible while they are confronting this disease.
The CTFTC supports those individuals who are fighting breast cancer by offering financial assistance through confidential Helping Hand Grants to assist in areas where additional financial aid is needed.
Mayer Fabrics is proud to participate as a Silver Sponsor, and will continue to support, events and opportunities made available by The Common Thread for the Cure. Thanks to them, our industry is playing a role in improving the lives of those affected by this disease.
Mayer Fabrics is donating 2% of sales from select patterns to The Common Thread For The Cure. Look for the pink ribbon on participating pattern pages.
HELPING HAND GRANTS
The Common Thread For The Cure will make Helping Hand Grants available each year to approved applicants. Grant amounts and number of grants offered will vary based on the availability of funds.
WHO QUALIFIES FOR A GRANT?
Anyone who is affiliated with the furnishings and design industries may request a grant either for himself/herself or for a member of his/her immediate family (i.e. child, spouse, parent, sibling). The recipient must currently be battling breast cancer.
WHAT QUALIFIES FOR A GRANT?
The purpose of a Helping Hand Grant is to aid breast cancer survivors and their families in areas where financial assistance is needed. For example, a grant can be used to meet household expenses, transportation costs, medical bills, etc.
To learn more about grants, email: grants@commonthreadforthecure.org
To donate or learn more about The Common Thread for the Cure, please visit commonthreadforthecure.org