July, 11 2022 | 4 min read
By Kimberle Frost, Design & Color Consultant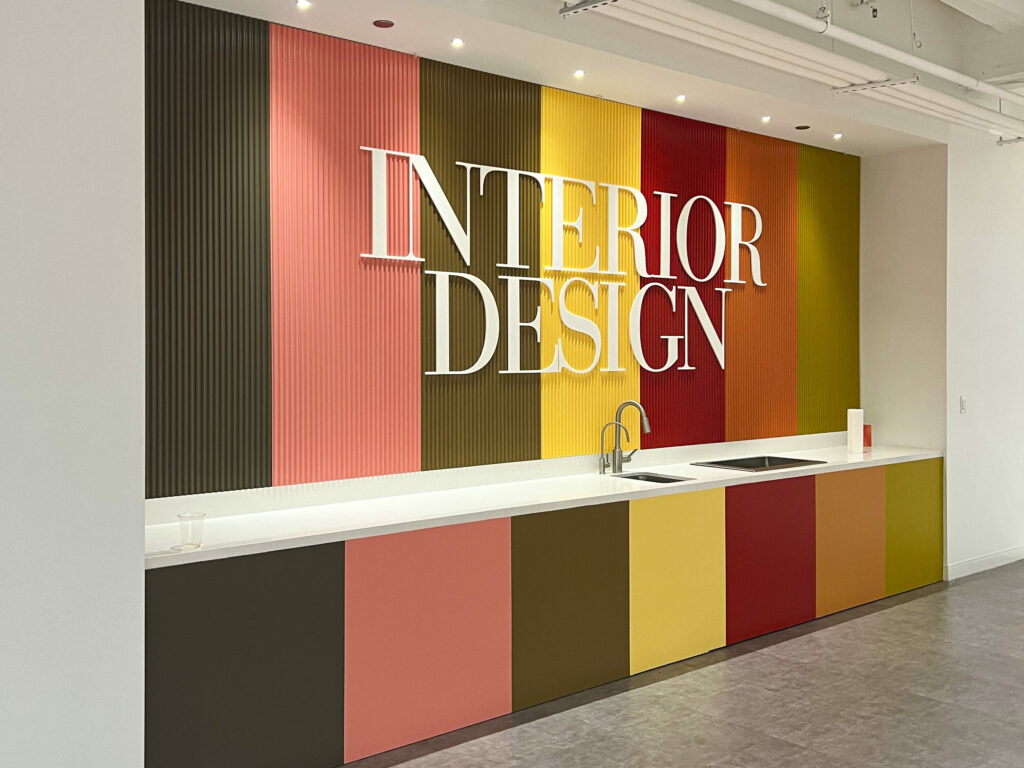 When I attended Neocon in October 2021, I was able to spend more time on overdue conversations with friends and clients and take a more casual stroll through the Merchandise Mart and Fulton Market show rooms with a sense of calm and attention. Fast track to June 2022, the show had an energy that definitely felt like pre-Covid times; an empty elevator was hard to find and the line for Starbucks was around the corner.
All of it felt familiar and somewhat normal.
What I did notice is a more focused and curated offering of products and color. A continued call out to a more muted, complex color offering that reflects a world still in limbo. These particular colors span across different markets and leave us with a sense of reassurance and calm.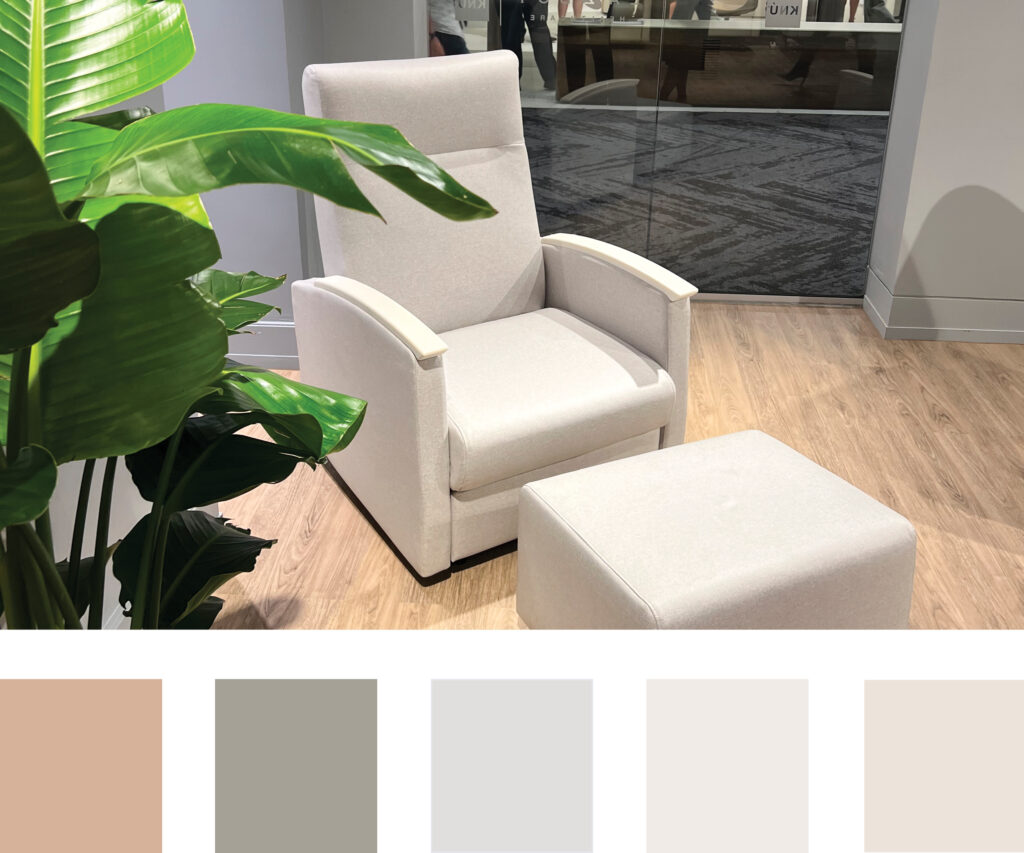 Beige
"Beige is atmosphere. It's bisque, it's ivory, it's cream, it's stone, it's toast, it's cappuccino. It's well, it's magic."

Albert Hadley
We've been talking about colors moving toward more warmer hues for the past few years and this year we see less gray and more off-white crème and beige. Why beige one may ask? The color reflects a more residential appeal and with today's technologies, it is easier to clean. Also, beige is definitely less stark than pure white and can cast in many different directions. What's not to like about beige?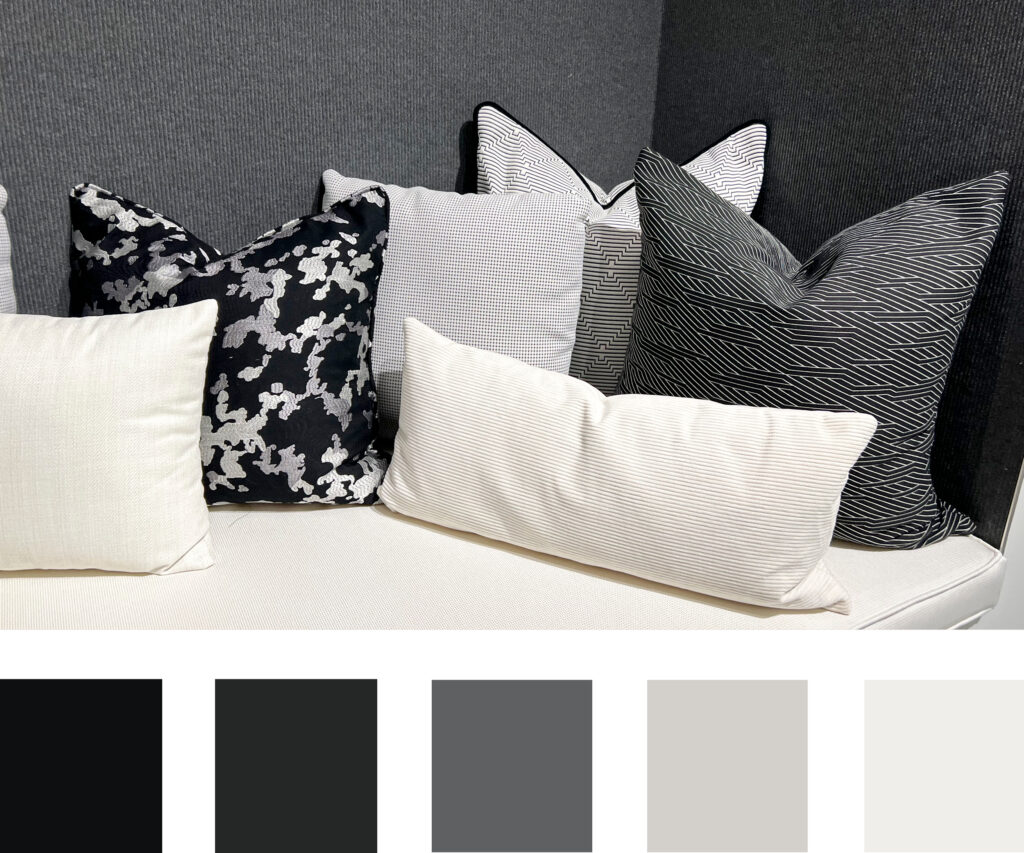 Black and White
"Black and white creates a strange dreamscape that color never can."

Jack Antonoff
The use of black and white in interiors has the power of giving an interior a lasting impact. The use of these two non-colors portray a flexible, classic monochromatic background especially when used with other pop color accents. Timeless, elegant and incredibly versatile, we see black and white as a reoccurring theme at NeoCon and in most market applications.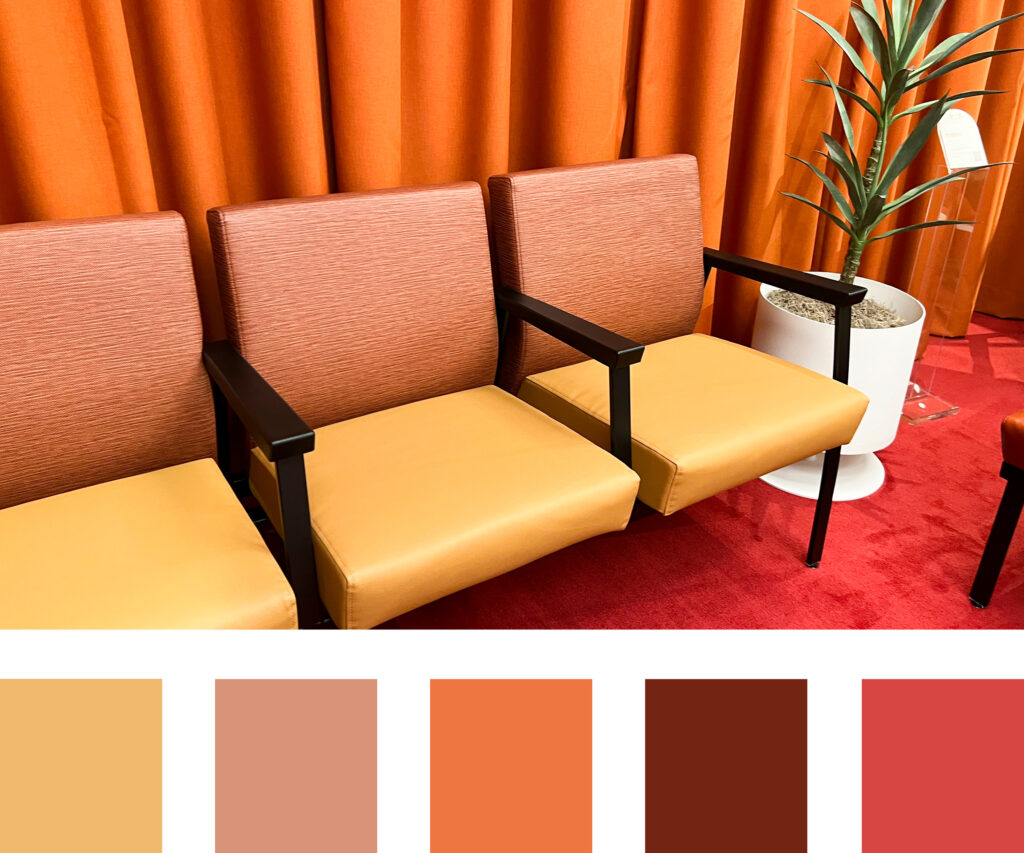 Copper
"Just because there's tarnish on the copper, doesn't mean there's not a shine beneath."

Laurence Yep
Continuing the trend towards warmer tones, the color copper works perfectly with brown tones, black and all natural materials. We see this combination in flooring, hard surface finishes, panel applications and upholstery, a continued focus on an earthy, grounded base.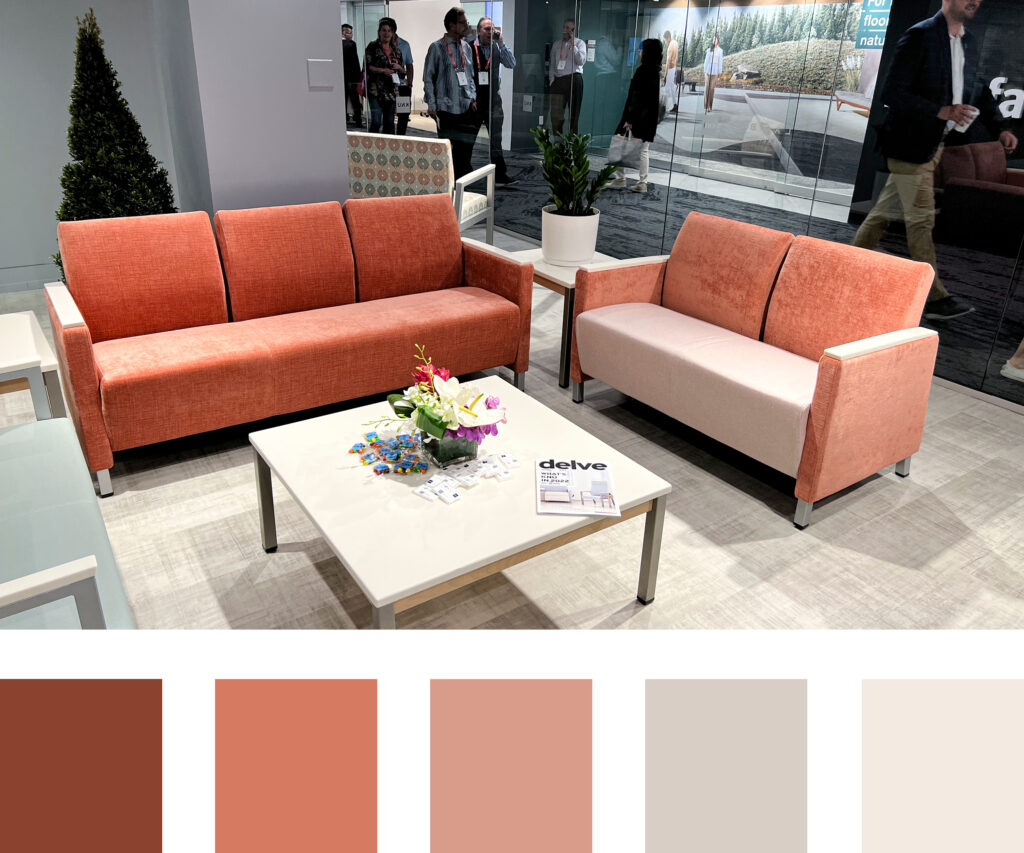 Salmon
"Pale pink salmon is the only color I cannot abide – although, naturally, I adore pink."

Diana Vreeland
Last year I noticed a lot of blush [pink] found on everything from furniture, case goods and acoustical pods. This year the softness of pink has been replaced with a more peachy salmon color which actually works perfectly within its analogous color sequence, pink, terra cotta and a deeper rust.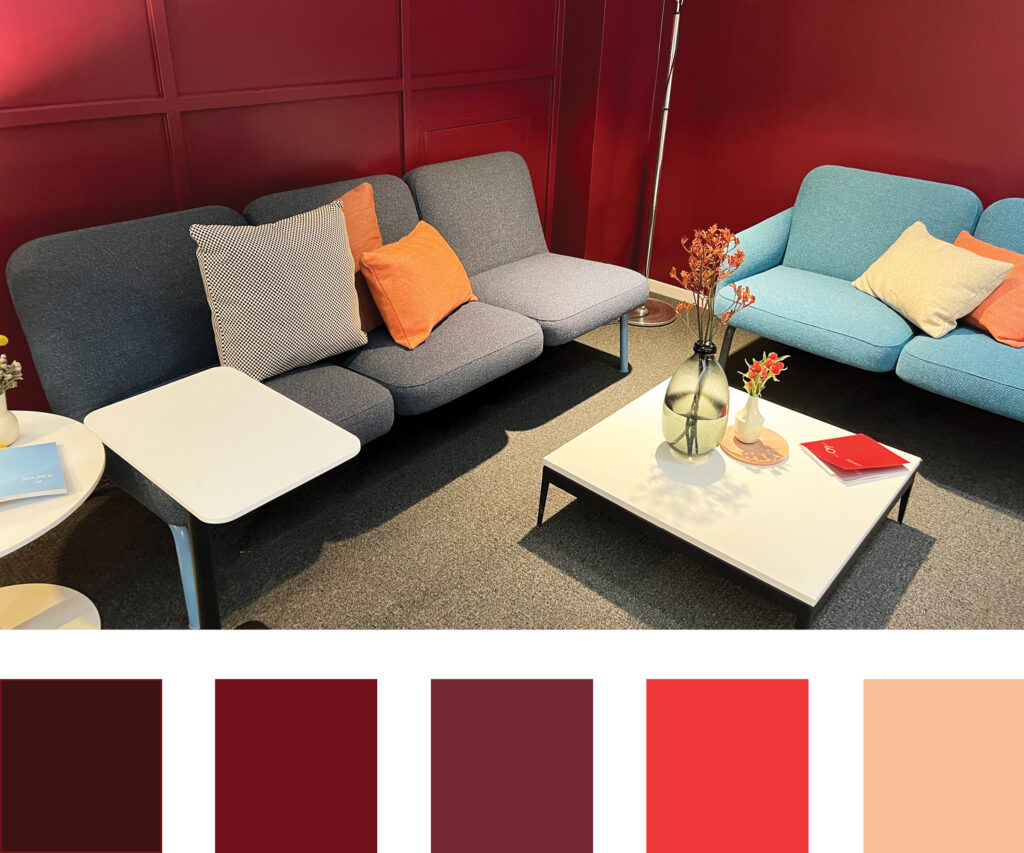 Currant
"There is a shade of red for every woman."

Audrey Hepburn
We always love when red appears at NeoCon, but this year it is shown in an intense color combination with citron, unique and powerful. Who wouldn't be attracted into this energy pull? The Interior Design Pride Auction was first and forefront in showing this surprising combination along with others promoting this exciting color statement!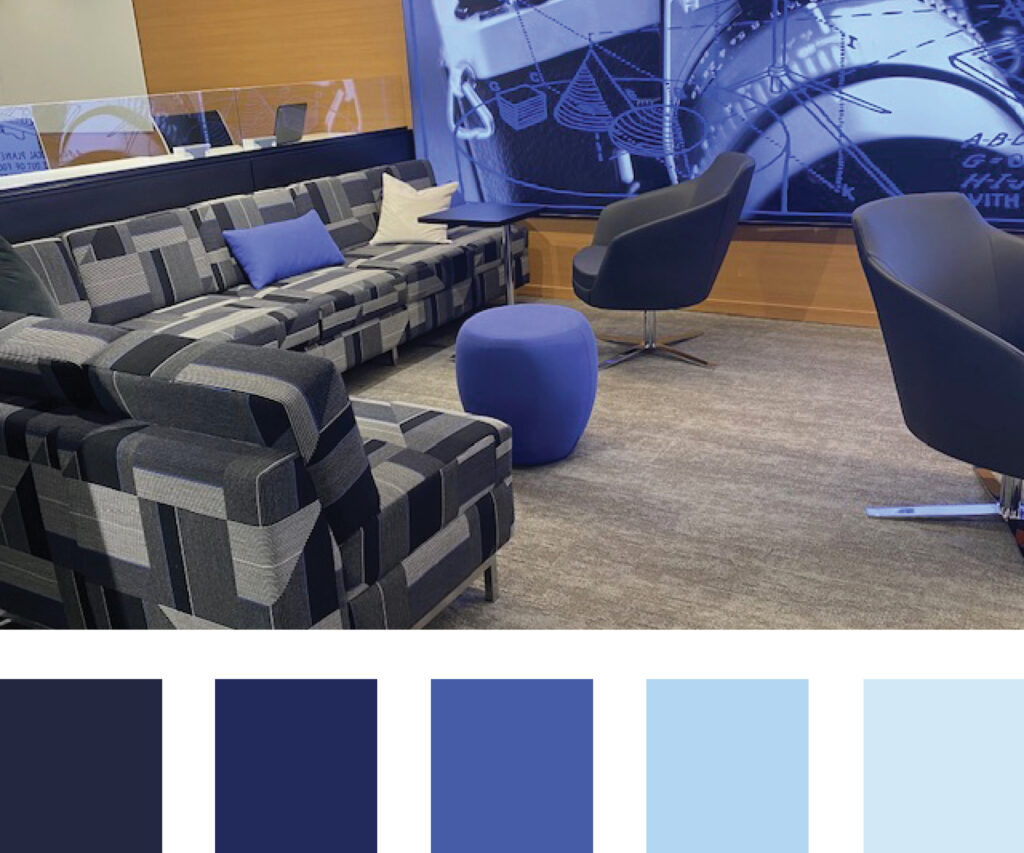 Cobalt
"Cobalt is a divine color and there is nothing as fine for putting an atmosphere round things."

Vincent Van Gogh
Wow, Cobalt is definitely the "it" color of the show! I saw a version of this delightful blue in every showroom and combined with everything from the obvious pairing of a blue green to its complementary orange. It's a clean color that works for all markets and evokes a sense of happiness and security.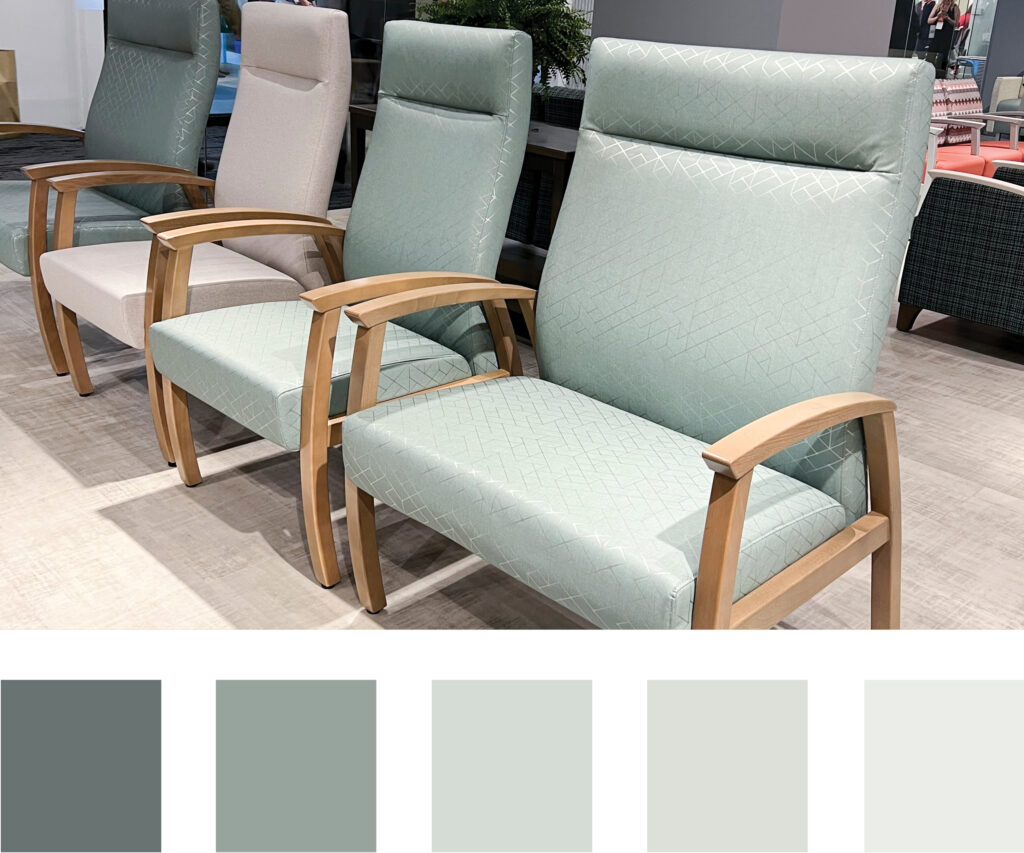 Mint
"The world is like a little marsh filled with mint and white hawthorn."

Mary MacLane
Mint surfaced a few years ago in the contract market and still has staying power. A calm, cool color associated plants like eucalyptus, it represents a soothing, peaceful color, perfect for healthcare applications. The color is trending toward a deeper, more saturated hue so we will see more that color
[in combination with light purple] in 2023.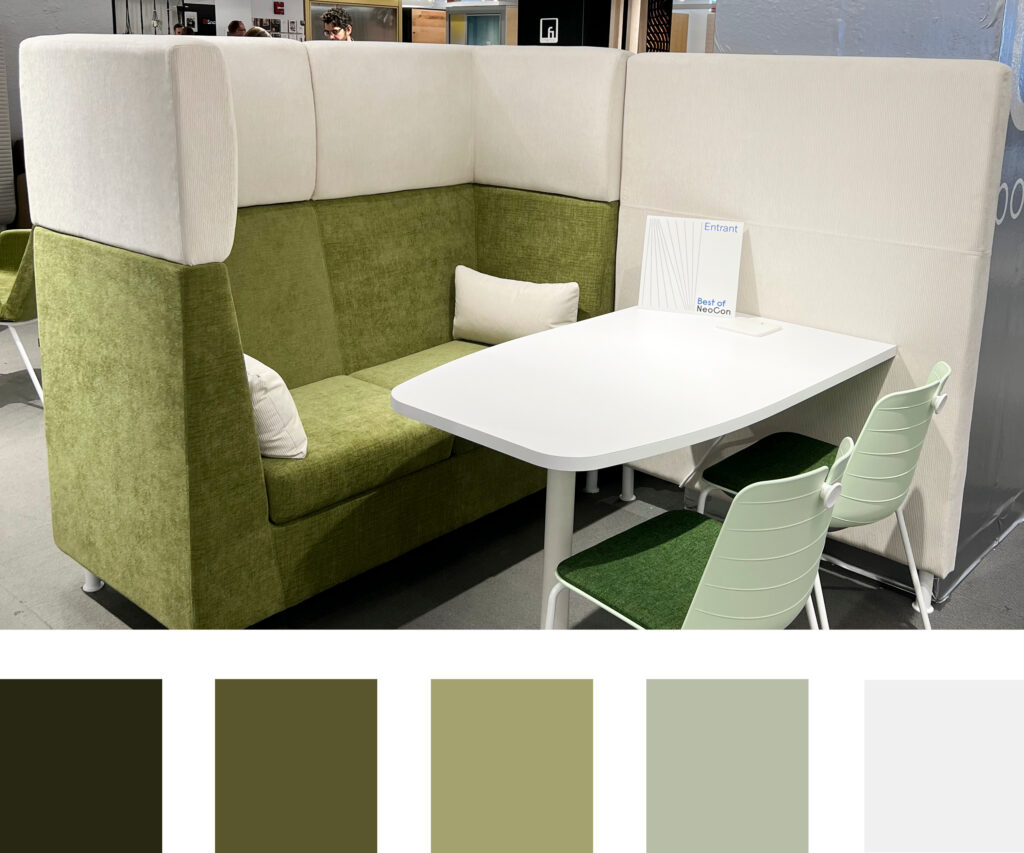 Olive
"Her eyes were olive green―incisive and clear."

Dan Brown
We continue to have an obsession with nature and biophilic design and rightfully so! We learned that our connection with nature is important and is known to boost our wellbeing and create a calming environment. This year I found most greens to be grounded, earthy with a more yellow based like khaki and olive.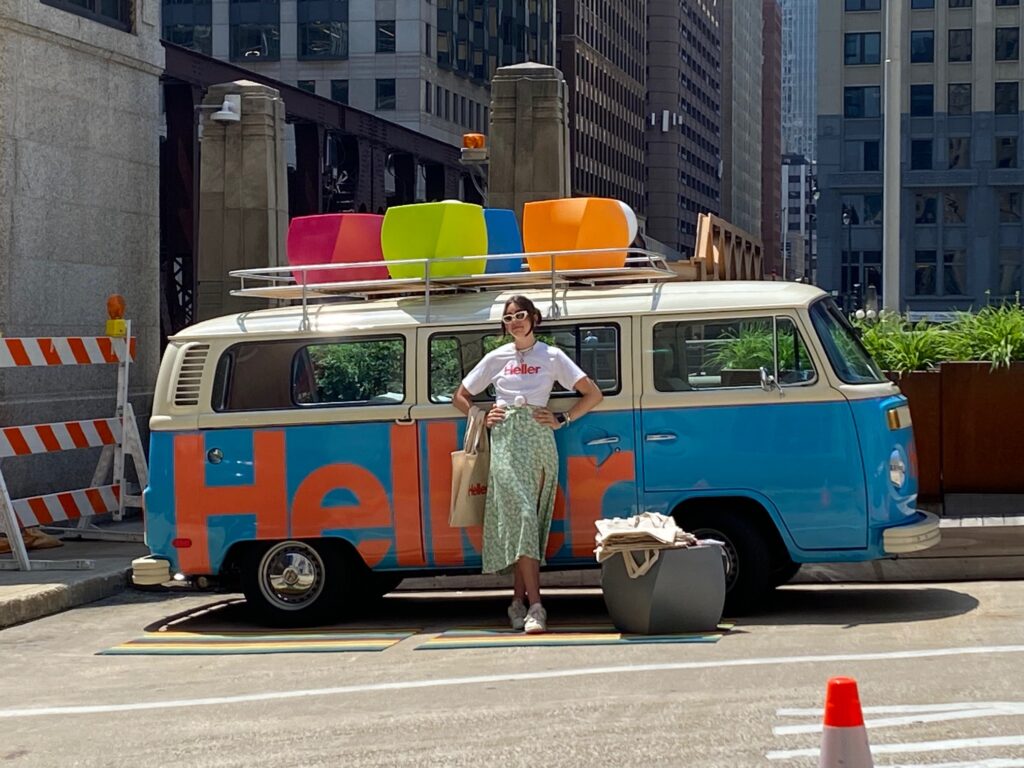 We are rapidly coming out of our post COVID fog, looking forward to expressing authenticity and individuality in both patten and color. This NeoCon, I found companies still playing it safe with overall warmer neutral and complex color palettes, simple textures and multi-colored printed patterns.
I loved seeing the introduction of more woven patterns and prints based on historical botanical designs and organic themes, a departure from current contemporary geometrics. We will see an expansion of this trend in 2023 in wallcovering, woven upholstery and printed coated fabrics for all markets.
We will also start to see bolder colors as we transition out of our post COVID cocoons into a brighter world where we can be heard. Natural material use and sustainability will continue to be on the forefront of project, demanding more accountability from companies and humans. It's all exciting!
I look forward to what's ahead in 2023.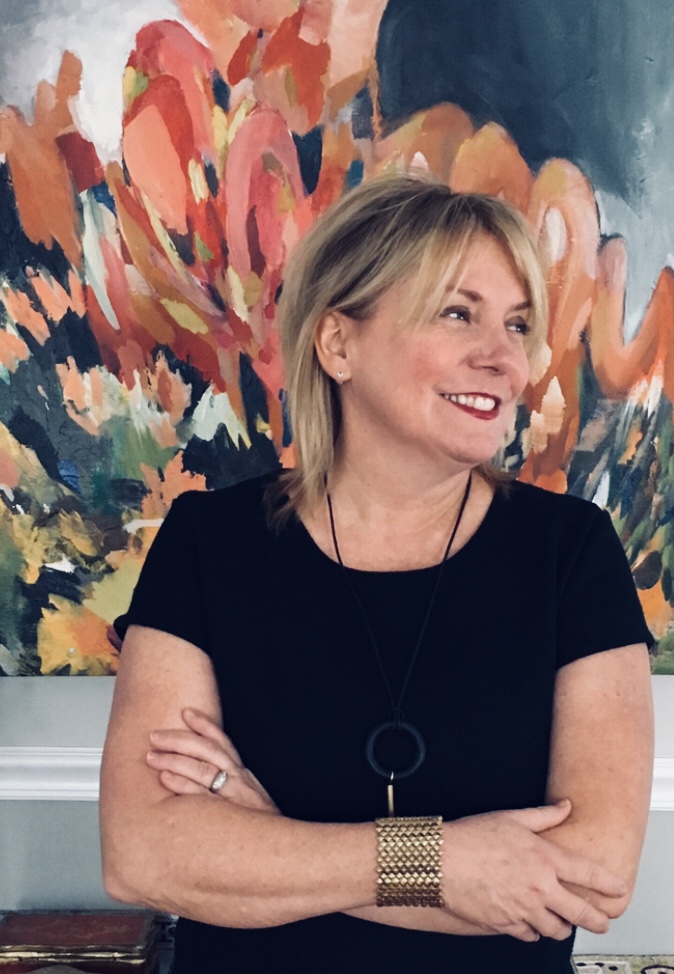 Author Kimberle Frost has over 25 years of experience as an independent consultant offering services in textile design and styling, color consultation, and textile marketing in both the contract and residential markets. Frost is recognized for her broad range of design and technical expertise along with her strong color sensibility.
Her portfolio includes work for highly regarded companies such as Robert Allen, Duralee, Mayer Fabrics, Momentum, Arc-Com, and Ultrafabrics. She was also Vice President of Design at Designtex for over 6 years where she was instrumental in shaping the design direction of the company. In addition to work with major jobbers and furniture manufacturers, she continues to contribute her design expertise and color vision to many domestic and foreign mill sources.